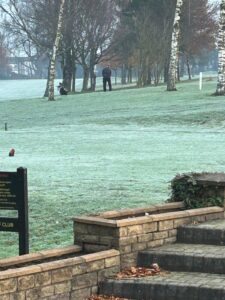 Morning all
Before i get on to the results from Sunday, then its only fitting we start with our Vice Captain Elect (Kev Speight) deciding to play the First hole as a dog leg - If you look closely enough you can see Kev in the trees and just in bounds playing his second shot to the first green. Thanks for the Picture Craig..........
Well I hope you all enjoyed the proper autumnal morning / afternoon on Sunday - Better for the later starters no doubt after the frost had cleared, but either time I bet it was much better than the previous weeks conditions, and of course back on Greens - Thanks to the Head grasscutter and his Merry Band of Men for their hole digging / pruning and attention to weed pulling over the last few weeks (Thanks To Garry Shoreman for his Direction whilst sat on his backside in Spain, as every Army needs a General.
So on to the Results and Congratulations go to Guy Hamer and Madge from Benidorm (Deadly Doug) on smashing the Field with their 42 points - Dougie was subbing for Bomber, who being under the Thumb was not allowed to play - and I was told that Directly by Tracey his misses at the Dinner dance! As for Guy well after last weeks DQ, he reached the heights of winning - costing Bomber 2 shots in the process, but a very handy 15 points in the league. Runners up on the day by way of a CPO were John and Lewis Flynn, glad to see young Lewis didnt drop his Dad this week - mind you looking at the Card, he may well have stayed in Bed, as John recorded an impressive 39 points to Pip Ged and Carl by way of having 22 points on the Back 9 - Good job the cards are checked, as Ged and Carl originally had 40 points, but Carls 5/2 on 8 was marked down to 5/1 (It is not a DQ as the Gross score was correct - For the record you can record an incorrect gross score on any hole, as long as it is higher than the score you actually got and it is not a DQ - it is only a DQ if you record a lower gross score than you recorded). When Checking with Nine Lives Bob, he marked it as it used to be Stroke index 12, but is now stroke 13 - I am sure in time we will get used to the New Stroke indices. Well done John and Lewis by the way.
I have asked Comps to look at the Score card in general as it can be confusing, and they will look at altering it so Columns ABCD where we record our scores are moved back to being next to the White and yellow sections.
As you can now see, all Knockouts are up to date - Can I kindly ask you to address your game at your earliest opportunity, ideally I would want all ties played before the end of next month - Best card can be played in any format we play - Matchplay will have to be arranged during the 17th, 24th - or if it has to be the 31st (You do not have to play your matchplay on a Sunday by the way, you can play it anytime - If you are playing with your WL partner in this Sunday's Turkey shoot - and your opponents are also playing, you could squeeze your best card in if you want - just let me know). Getting all knockouts played early helps massively with the Fixtures diary and allows us to throw in some formats such as Various Greensomes / Fruity Foursomes and maybe even Texas 2 Man. Contact details of your opponents can be forwarded to you if you let me know - I know at least one pair have already booked their matches in both knockouts, so please try to follow suit - End of Rant!
As mentioned above this Sunday sees the Club Turkey shoot being played, so the WL goes into a 'Winter Break' for a week - and will return Sunday 10th December, when Foursomes will be the Format - all holes will count for 2's - if anybody requires a Sub for then please let me know.
Have a good week
Best Regards